FOREST ROW
near East Grinstead, Sussex UK
Your comments are sought in relation to what we can do to prepare for potential chaos arising from the Milennium Bug. Please click here.

Your two District Councillors at Wealden District Council are
Olivia (Libby) HUBBARD (Conservative) 01342 824061 fax 826450 and
John SULLY (Conservative) 01342 822166

Please telephone your councillors about any issue that they may be able to help you with - or any other that you feel they should be doing something about!

THE FOLLOWING IS OLD INFORMATION

The Forest Row Parish Council
now has a fax - 01342 825739 its office's telephone number is 822661. You can

email them from here - BUT PLEASE GIVE A FAX NUMBER or SNAIL MAIL address for reply
The Forest Row Business Forum has just started up!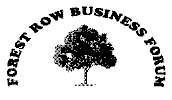 If you'd like to participate then email John Gill at 101576.3372@CompuServe.COM


Click here to return to the Hammerwood Park homepage

Here's the no longer MacDonalds-free town of East Grinstead Wealden is still MacDonalds-free!

Try Latroba the search Engine at Info-World and the Travel Fact File Directories

If you'd like to be notified when this noticeboard changes, enter your e-mail address, click on the button, and you will receive an e-mail when the page is updated.