WIND AND WATERMILLS OF SUSSEX AND SURREY
HAXTED WATERMILL MUSEUM AND RESTAURANT
This project deserves a conservation award!
A unique combination of a working watermill with dynamic museum of functional mill machinery with emphasis on the history, developement and multiple uses of water power.
HISTORY OF HAXTED MILL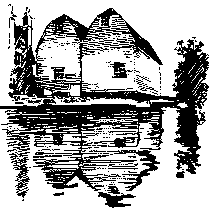 The Western half of the double frontage Mill was built about 1580 on the early 14th century foundations, while the Eastern half was added in 1794. Notice the change from hand axed oak to sawn pitch-pine.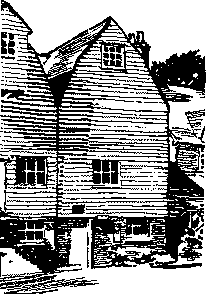 The first record appears on the will of Sir Reginald de Cobham dated 1361. Always a corn-mill it ground flour up to 1919 and then, like most other wind and water-mills, was reduced to grinding meal for local farmers until 1945.
Mr. W. Woodrow, the previous owner spent 20 years in restoration and the collection of exhibits before opening the mill as a Watermill Museum in 1969. Recently a complete refurbishment programme has been canied out, including the full restoration of the waterwheel and mill race.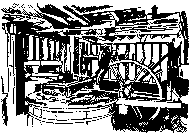 BRASSERIE OPENING HOURS
Open for Lunch and Dinner all Year
Morning Coffee and Afternoon Teas
Easter to October 31 st
Closed Mondays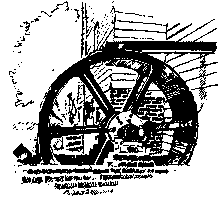 MILL OPENING HOURS
Easter to October 31st
Including Bank Holiday Mondays
Closed Mondays
1Oam to 5pm
ADMISSION
Adults £1.00
Children 75p
Course Fishing £7.00 Per Day Two Rods
Haxted Mill - Riverside Brasserie & Bar
Telephone 01732 862914
LOCATION OF HAXTED MILL
Haxted Mill is situated on the River Eden, just on the Surrey side of the Kent-Surrey border, almost two miles West of Edenbridge. It stands beside the road which joins B2029 at Lingfield Common with B2026 at Edenbridge.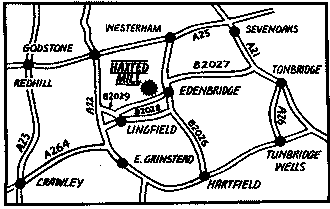 All working: - The large waterwheel still driving the Mill after 150 years.
A Cornish tin-mine wheel.
A pumping waterwheel from Sussex which supplied water last century to a manor.
A Suffolk farm-mill models of a hammer mill and grindstones.

Course Fishing.

Wander round the picture gallery with watercolours, old postcards, photos and drawings, with site maps, some of them the only relics of mills long gone. Probably the oldest surviving wooden water wheel, a mysterious grindstone dug up under the foundations of the new Tesco store in Croydon, and a unique hydraulic water level control. Take the rather precipitous climb to the three upper floors to see other exhibits and artifacts.



Click here to stay at Hammerwood park nearby and here for Hammerwood Park afternoon visiting information (you'll enjoy the online tour too!)

Click here for a beautiful garden to visit nearby





The following space has been donated by Hammerwood Park near East Grinstead Sussex
SUSSEX MILLS
open to the public
From a leaflet is produced by the Sussex Mills Group of Sussex industrial Archaeology Society and we apologise for the poor OCR transcription - we'll get around to improving it!
Sussex Mills Group
In Sussex we are fortunate to have in our county all three types of windmill (namely Post, Smock and Tower) and several surwing watermills.

Some of these mills are open to the public. Some are prwately owned and are not open to the public. It is essential that we respect the prwacy of such mills. The purpose of this leaflet is to provide brief details on those Sussex mills that are open to the public. Most mills will take parties by prior arrangement.

The aims of the group are to promote the preservaUon and restoration of mills and related objects of historic or technical interest, to record the physical remains of mills and their related actwities in these counties of East Sussex and West Sussex. to study and presene documentary and other types of records relating to the milling histo of East and West Sussex, to provide a forum for related societfes and to promote educational involvement with related projects before, during and after restoration. For further informaUon on mills and places of industrial archaeological interest see: -
Sussex fndustrial Archaeology Society. A Field Guide. Ed. b B. Austen, D. Cox and J. Upton. Published by Phillimore ( 1985).

Membership of Sussex Mills Group

Membership of the Sussex Mills Group covers membership of Sussex Industrial Archaeology Society. Brian Pyke (Hon. Secretary), Stream Cottage, Coggins Mill, Mayfield, East Sussex, TN20 6UP

Chailey Windmill

Location: Just north of the A272 road next to Chailey Hleritage. Said by some to be the centre of Sussex. Now Chailey Windmill Rural Life Museum. This white smock mill has stood on this site since 1864 after spending 34 years on two other sites. Now without any machine it houses a display of hstoric artifacts about agriculture, farming and family life since the beginning of the century.

"

Open: 1500 - 1700 on the last Sunday of every month - April to September

.

Admission: A small charge is made.

Jack and Jill windmills

Location: 1/2 mile north of the junction of the A23 and A273 above the village of Clayton, near Hassocks. Map ref.: TQ 303134. Jill is a post mill, built in 1821 in Brighton and mowed to her present site in 1852. She has been restored to work­ng order by volunteers. Jill suffered consderable damage in the great storm of 1987 but is now milling again. Jack is a tower mill built in 1866.

Open: Jill is open most Sundays and Bank Holidays from May to September, 1400- 1600. Jack is in private ownership and is not open to the public.

Admission: Free. Donations welcome.

Lurgashall watermill

Location: weald & Downland Open Air Museum. Singleton, near Chichester. Map ref.: SU 875127. This fascinating museum is set amongst beautiful Sussex countyside and consists of a most unusual selection of rescued historic buildings: houses, a mediaeval farmstead, rural craft workshops and agricultural buildings. Stone ground flour is always awailable.

Open: Eweiy day from March to the end of October, 1030- 1800. Nowember to February open Wednesdays Saturdays and Sundays only. 10.30-16.00

Admission: A charge is made.

           Ifie1d Water Mill

Location: Hyde Drive, Ifield, Crawley. Map ref.: TQ
245364.

There has been a corn mill on this
si te from 1684, rebuilt in  1810 and
now being restored. The site
features a working water wheel, a
hammer pond and local history
displays.
Open: The last Sunday in the
month from May to September,
1430- 1700.
Admission: Free, but donations appreciated.

          Polegate Windmill

Location: 4 miles north of Eastbourne, just wes
A22. Map ref.: TQ 582041.
Built in 1817, this brick tower mill
was restored to working order in
1967 with all its internal
machinery intact. the adjoining storeroom has been converted into a milling museum and houses a collection of milling bygones and models. Oroperty of Eastbourne civic society. Open: every sunday and bank holiday from Easter to the end of October. 1400 - 1700. also wednesdays in august. admission: a small charge is made.

Michelham Priory watermill location: upper dicker. near hailsham. just off a22 and a27. :map ref.: tq 556093. michelham priory consists of historic 13th to 16th century buildings, including a tudor barn, a 14th century gatehouse, a 7 acre moat and a working watermill that produces wholemeal flour to sell. open: every dayfrom end of march to end of october, 1100-1730. admission: a charge includes admission to house, gardens and mill.




For further and up-to-date information on all of these mills please see Sussex Mills Group

king's mi11 ship1ey locatton: 1. mile south of the a272 in the village shipley. map ref.: tq 143218. the largest working smock mill in sussex. built in la79, it once belonged to the author hilaire . belloc and has been restored to working order in his memory. open: first weekend of each month from may to september, 1430- 1730. see local press for further details of opening dates. ad4sston: a charge is made. contact:

woods mlll location: about 1 mile south of henfield on the a2037. map ref.: tq 218137. this converted 18th century watermill is now the headquarters and education centre for the sussex wildlife tnst. the waterwheel and machinery have been restored: inside there is a natural history exhibition. open: wednesdays, thursdays ' and saturdays, 1400- 1800. " sundays and bank holiday's from april to september. admission: a charge is made.

halnaker windmill location: halnaker, to the north of chichester map ref.: su 920097. externally renovate4 tile hu n g brick tower mill. one of the oldest remaining mills in sussex, erected c. 1750 for the goodwood estate.s. now onlya shell, but with all sweeps fitted. no internal machinery, but well worth the waik across the fields to see the remains. open: at all times. adssion: free. west blatchington windmill location: holmes avenue, hove, map ref.: tq 279068. this unusual six-sided wooden smock mill was built about 1820 on a square flint and brick base, with long barns extending north and south, forming part of a large farm complex. the mill formerly drove two pairs of underdrift millstones. it ceased working about 1900. much of the original machinery remains and the building is now a museum of milling history. the mill is owned by hove borouh council and run by a 'friends'group. open: every sunday from may to september. 1430- 1700 and bank holidays. admission: a small charge is made.

bartley watermill location: 3 miles from tunbridge wells, just off the b2169 road to lamberhurst. map ref.: tq 632357. originally ovwned by the monks at bayham abbey. recently restored to vvorking order, the mill produces flour from organically grovvn vvheat . ;rom the farm. the local bakery makes bread from the flour and delivers daily a wide range of special breads. u ;r open: every day in summer. :i 1000- 1800 and in winter, . ; f 1000- 1700. : " y 1;!rr admission: a charge is made. r- !.-

nutley windmill location: 5 miles north of uckfield. proceed from the a22 just north of nutley village on the crowborough road. map ref.: tq 451291. this open trestle post mill is the oldest working windmill in sussex. although disused for over 65 years, it has now been restored to working order. open: last sunday in each month and bank holiday sundays and mondays from easter to september, 1430-1730. admission: a small charge is made.

coultershaw water pump location: 2 miles south of petworth on the a285. may ref.: su 972194. this waterwheel-driven three-throw beam pump was installed in 1784 to pump water from the river rother to petworth, 1 1 /2 miles away and 150ft higher. a scheduled ancient monument, it has been restored bv sias members. the machinery has been put in to working order amid a  100 year old barn from goodwood erected over it to act as a reception and display centre. open: first and third sunday of each month from april to september, 1100- 1600. admission: a small charge is made.
this waterwheel-driven beam pump was installed in 1784 by 3rd earl egremont to supplement the water supply to petworth house and town. the pump worked until about 1960 pumping water 150 ft. uphill from the river rother (which drives the waterwheel), at a reputed rate of 20,000 gallons a day. in 1976, restoration was started by the sussex industrial archaeology society, by kind permission of lord egremont who officially restarted the pump on july 4th, 1980. the wheel and pump are now protected by a clay- tiled wagon shed from goodwood, presented by the earl of march. more about coultershaw there may well have been a watermill at coultershaw in 1086 when domesday book , recorded one mill belonging to petworth.  in 1240 coultershaw mill was presented to shulbrede priory by william de percy. the beam pump was erected in 1784 beside the mill, and worked till about 1960. in 1923 the waterwheel-driven mill was gutted by fire. rebuilt in steel and concrete, with steel rollers driven by a water-turbine (or by a standby oil,engine if the water level was low) the mill worked on until miller george gwillim died in 1972. the mill was demolished in 1973 but the beam pump remained now restored to working order. the site of a watermill was often a convenient place for a road to cross a river. here coultershaw bridge carries the a285 from petworth to chichester over the river rother, and also over the rother navigation see the lock chamber on the north side of the bridge. downstream (along the footpath skirting the mill pond) are the remains of a wharf used to bring goods to petworth via the new turnpike road built in 1800. nearby is the stable for the horses which towed the barges bn the rother navigation. the former petworth railway statibn lies 1/4 mlle to the south, next to the bed of the pulborough to midhurst branch line (open from 1859 to 1966). the 1889 station building is now a private house. , opening times ist and 3rd sundays each month april to september 11.00 am 4.00 pm scheduled ancient monument pictorial display boards 2 rother navigation  cbultershaw mill 3 coultershaw beam pump 4 sussex industrial archaeology society at work 5 coultershaw mill  petworth station 6 leaflets for other places to visit exhibits 7 display cases show various pumps, parts and other artefacts 8 domestic water deep borehole pump built in 1921 by duke & ockenden of  littlehampton, driven electrically please ask for demonstration 9 view waterwheel and pump from above 10 down stairs to see beam pump working (if these stairs are too steep, there are easier steps do.wn outside) 11 breastshot waterwheel, 11 ft. diam. overall, 41/2 ft. wide. casting by robert chorley at cocking ironworks in mid-19th century. (original undershot wheel was all of wood) 12 three-throw crankshaft of pump, driven by the waterwheel via a direct coupling 13. connecting rods from crankshaft three 12 ft. long beams (14), pivoted at the far end (15) 14. pump plunger rods 15. pump pistons: stroke 13 in., diam, 61/2 in, (single acting pump with leather plungers & valves) 16. delivery valve chest 17. delivery pipe 3 in, diameter, suction pipe under 18. air vessel to reduce pressure fluctuations in delivery pipe 19. water supply to waterwheel & pump 20. sluice gate controls water level trail guide static displays show how the beam pump works and how the site was restored. downstairs the waterwheel drives the beam pump to supply a fountain outside. also outside see the tail-race, mill pond, sluice, standby engine house, bridge, lock chamber, wharf and stable. any questions? please ask a steward.