Scroll below for some favourite piccies of Pamela Anderson in her swimsuit . . .
If you missed the link at the top, here's the OFFICIAL BAYWATCH WEBSITE
Here is Pamela Lee Anderson in a Baywatch swimsuit on a Baywatch poster


Pam Anderson's Baywatch swimsuit looks better than a bikini . . .
(Who'll flame us for saying that!)


Pamela can look wistful too!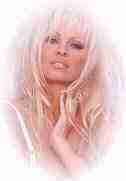 But Pamela Anderson is always happy just for you . . .


Here's even a life size stand up model of Pam Anderson! But you can't put her away in a box!
If you don't like taking Pamela to beaches like this


then click here to find a less crowded one in the UK
Hey! Why bay-watch the box when you can buy a box :-) instead!

Come bring Pamela and her film crew please for a shoot in England's Stately Homes!

Want a stately place to stay built the President's architect Latrobe to impress Pamela when you come to the UK?


Soak up the architectural space at Hammerwood in England which the Clinton family enjoys in Washington

Or come bring Pamela to stay in an English castle

Sex wasn't the original sin - it was the act of Hephaestus

Does Pamela make you feel volcanic? Then here's somewhere volcanic to take her . . .
If you find a site which you would like to be linked to from here, please email me. Any sites linked to must, please,
1. Be willing to return the URL, and
2. Contain no photographs nor links to sites with photographs in which Pamela or any other of the Baywatch team are undressed - i.e., dressed in less than a swimsuit.
Here's a site which has asked for a link . the webmaster has not had time to look at it himself so please email him to tell him what you think of it.
We hope you have enjoyed the fun of our webmaster's madness. More links will be added. If you would like to be notified when the page is updated, please fill in your email address and click on the button below.
We have started a Guestbook. Please tell Pamela what you think and what you would like to see here . . . (Hey - nothing naughty please!)
Come and see what others say . . .

Here's an astrological analysis of Pamela Anderson's Career according to an analysis of her time and place of birth
By the way, we hope you've enjoyed taking Pamela Anderson to the beach but here's a new Pamela Anderson site which we like
Here's another site which is being kept very much up to date. There's a link on the links page there to a site by Gerry Anderson, reputedly Pamela Anderson 's brother but I don't believe it because he doesn't respond to emails.
Are you thinking of having a rompingly good party? Then here are balloons to celebrate with! The webmaster was asked to improve their website. In the course of this, whilst he normally uses Infoseek he did a search on Altavista for Latex Balloons. To his surprise, Altavista returned a message in which Pamela Anderson admirers might find interest: "AltaVista knows the answers to these questions: "What can you tell me about the sexual interest in latex?". Discovering that a page on the searchhas had 1/4 million visitors in 18 months as also has http://home.ican.net/~chipple/loons/. So it seems that such inflated things are liked by very straight-down-the-line normal ordinary people and is as popular as liking silicone enhanced Pamela Anderson herself.