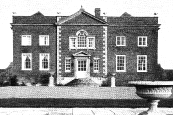 Bed and breakfast at
Welland Court is a gem of a small manor house of great character and charm. Built in about 1450 it was enlarged in the 18th century when the Georgian facade was added. This gorgeous house has been recently rescued from a dilapidated state and graciously modernised to to-day's high standard of comfort. Of past owners of interest, the house was owned by Doctor Richard Bright (1789-1854) who discovered Bright's disease.
WELLAND COURT
UPTON-UPON-SEVERN
WORCESTERSHIRE WR8 0ST
Tel: +44 (0)1684-594426 Fax: +44 (0)1684-594426

e-mail enquiries for Welland Court.
Be sure to give return fax telephone or snail-mail details.


Welland Court is furnished with many period antiques, and it is situated at the foot of the majestic Malvern Hills with outstanding views from every aspect. It is an ideal venue for lunches, elegant evening dinners and other functions where up to 40 people (sitting down) can be catered for.




Cordon bleu cuisine is available at all times and menus are "tailormade" to suit all tastes.




THE PENT HOUSE is a converted stable with 4 double bedrooms, all with en- suite bathrooms. Upstairs there is a beautiful room with a ma gnificent beamed roof. This room is used for conferences, meetings and a common- room with television for overseas executives who come for intensive English language courses. THE PENT HOUSE is also let for self-catering holiday lets and bed and breakfast accommodation. It is decorated and furnished to an extremely high standard with designer fabrics and antiques.



Besides the accommodation for up to 8 in The Pent House, there are further double bedrooms, with en-suite, for visitors. There are tea and coffee facilities and television in the bedrooms and we serve a full English breakfast. Evening meals are available by special arrangement.


There is accommodation for up to 12 people for residential conferences.


Welland Court, with 23 acres, is surrounded by some truly beautiful countryside. There is a 2-acre lake heavily stocked with trout which is available for use by anybody staying, at no extra charge.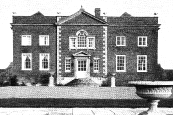 Welland Court, 100 miles due west of London, is an ideal base from which to explore the beautiful Wye and Teme valleys, the ancient 2500 year old fortifications of The British Camp and to visit the Cathedrals of Hereford, Worcester and Gloucester, famed for their annual Three Choirs music festival; and with Edward Elgar's birthplace only a few miles away. The historical towns of Tewkesbury, Ledbury, Broadway and Upton-upon-Severn are all nearby with Stratford-upon-Avon and the Cotswolds only an hour away. Fifty miles to the south of Welland lies the beautihil city of Bath with its Georgian elegance and the finest Roman remains in Britain. The Principality of Wales, with ancient castles and its own culture and language, is to the west where mountains and lakes abound just an hour and a half away by car. There are museums and castles of all sizes to visit, theatres, concert halls and a wealth of places of interest.

Welland Court is the home of Philip and Elizabeth Archer and their three grown children.






Click here if you plan to go north to Scotland
Click here if you plan to go South
Click here if you plan to go East and to Heathrow Airport
Click here if you plan to go back to Gatwick Airport and the South East