THE INSTRUMENTS AT FINCHCOCKS
The Finchcocks historical keyboard collection comprises instruments, mainly from the eighteenth and nineteenth centuries, and numbers some eighty instruments in all. Early pianos make up the main body, but there is also a number of chamber organs, harpsichords, virginals, spinets and clavichords. A brief summary of the most important features of the collection is given here.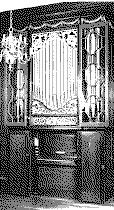 ORGANS
The largest instrument in the collection is the magnificent chamber organ of 1766 by the London maker John Byfield which stands twelve and a half feet high against the north wall in the old drawing room. It is one of the best preserved of all surviving English Chamber Organs of the eighteenth century, with its mechanism and pipework virtually intact. Two other chamber organs, an instrument by John Avery of 1792 and an anonymous French instrument of c.1790, are much smaller than the Byfield instrument, yet are ideally suited to chamber music.

An Alexander Harmonium (free-reed organ) has recently been added to the collection.
Click here for more organs at Hammerwood Park

HARPSICHORDS
The harpsichord family comprises three main types of instrument: the spinet, a wing-shaped instrument; the virginals, most examples of which are shaped like a rectangular box; and the harpsichord itself, the largest member of the family, mostly in a 'grand piano' shape.\ The spinet, virginals and harpsichord all use a plucking mechanism on the back of the the keys to create their sound.

Finchcocks contains several examples of all these types of instrument. Notable amongst them are harpsichords by Jacob Kirckman (1756), Thomas Blasser (1744) and Joachim Atunes (1785) as well as the oldest instrument in the collection, a virginals by Onofrio Guarracino (1668).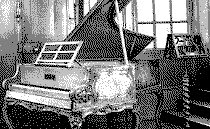 PIANOFORTES AND FORTEPIANOS
There are some fifty pianos at Finchcocks, which embrace most of the types produced in the late eighteenth and early nineteenth centuries.

Two pianos in the collection are similar to those that Mozart knew. The grand piano (or fortepiano, as it was often referred to on the continent) by Sebastian Lengerer, built in the Tyrol in 1793, is old fashioned for its date.

Lengerer was apparently a pupil of Johann Andreas Stein, and the piano reflects the work of his master, who so impressed Mozart in the 1770's. The other 'Mozart' piano is the grand by MIchael Rosenberger dating from the last decade of the eighteenth century. This instrument possesses a particularly warm tone quality and a highly responsive touch, and has been used in many recordings.

Both instruments feature knee-levers, as foot-pedals were considered to ruin the aesthetic of the instrument. However pedals were necessary when the piano had other effects to control, such as in the Viennese fortepiano by Johann Fritz dating from 1815. This instrument has a tremendous range of effects including a device called 'Turkish Music' consisting of bells, cymbal clash and a drum mechanism striking the soundboard. Four pedals and a knee-lever are required to control the effects on this piano.

Other important Viennese fortepianos in the collection include two fine concert grand pianos from the 1820's by Conrad Graf - both in superb playing order.

English pianos are on the whole louder than their foreign counterparts with a heavier action and a richer, moer resonant timbre. The leading firm was Broadwood, which produced instruments of different kinds to suit all tastes and pockets. The Finchcocks collection owns some twelve pianos by Broadwood, of every size and shape. They include several examples of the ubiquitous square, ranging from the cheaply produced but charming little instrument of 1795, with a simple action and no sustaining mechanism, to the larger and more powerful early Victorian instrument that formerly belonged to Prince Albert.

More expensive than the squares were the grand pianos, such as the instrument of 1801, or the larger six and a half octave piano of 1823, an ideal instrument for Mendelssohn. In 1848 Chopin gave his last recital in London on a Broadwood and the collection contains a similar instrument from this period, an instrument in aboyna wood and applied carved gilt decoration.

The great rival of the house of Broadwood was the firm of Clementi and Company. There are five grands in the collection by Clementi. One of these, a grand dated 1822, incorporates his patent 'harmonic swell and bridge of reverberation' device, whereby additional strings sound, when required, by sympathetic vibration. Also by Clementi is a small cabinet piano of around 1825, the precursor of the modern upright. After Clementi's death the firm continued under the name of Collard and Collard (Clementi's former business partners) and Finchcocks owns a fine grand piano by Collard and Collard of c.1835 (featured above).

The collection also boasts two English upright Grands, each standing about eight and a half feet in height. One is by Clementi and the other by Jones Round.




Click here to return to the other houses to visit in South East England
Click here to stay nearby at Hammerwood Park
Click here to return to the Hammerwood Heritage Resource

CLICK HERE FOR THE ASSOCIATION OF BLIND PIANO TUNERS