Bed and breakfast at a stately home near East Grinstead convenient for Gatwick airport but without the noise of Gatwick Airport!
[German Language here] . [French language here]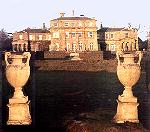 B&B with a difference!
Step back in time . . .
with the largest B&B bedroom in Europe . . .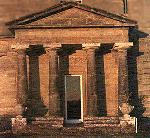 Hammerwood is a palacial place to stay for anyone - but for those visiting England via Gatwick airport, only 25 minutes away, it is a peacefully bucolic place to revive from jetlag - or to spend a last civilised day . . . Visitors stay in the Victorian bedroom with four poster bed and en suite bathroom (shower but no jaccuzi!) in the restored West Wing or in a suite in the North wing (no shower, no jaccuzi!).



Does anyone know of a larger hotel bedroom in the world?

The Victorian bedroom is palacially huge with an antique four post bed, and the Victorian bathroom has been fitted with a good shower. The North Wing bedroom is still quite large but but it's more cosy and with an annex for a third person if required.




Unfortunately we don't do B&B in the winter . . .


but you might like this instead . . .


Special Winter Holiday Offer in Hampshire . . .




Luxury special winter break in January in the New Forest

HAMMERWOOD PARK IN SUMMER

Price per room: Victorian bedroom: £120 [120 UK pounds] for one night, 110 per night for two nights, 100 pounds per night for three or more nights. This includes a good continental breakfast. A cooked English or smoked salmon breakfast is available at a supplement of £15 [15 UK pounds] per head - it must be ordered 24 hours in advance. For the North wing: £90 pounds per night for one or two nights and 80 pounds per night for three or more nights. 3rd person in annex bedroom £30, ideal for a young person. If you have a third adult with you, you may like to consider the grandeur of taking both rooms . . . (We sometimes make a reduction for this) If you have children we try to make every effort to accommodate you. Tel: +44 1342 850594, Fax 850864


Nearby is the Ashdown Forest and many other historic houses open to the public and it also makes a splendid base for a night at the opera at Glyndeborne.There are many local traditional inns serving good food en route to Royal Tunbridge Wells. Two rooms are available. Click here to email latrobe@mistral.co.uk for availability enquiry for April to October: IMPORTANT - to assist booking administration please can you put B+B HAMMERWOOD and the date of your proposed stay in the heading




Guests have full enjoyment of the parkland and the wonderful walks in the area, corporate membership of a health club in a local hotel with a wonderful warm swimming pool and jacuzzi, and - if you are that sort of person (which we are not) there's an exciting golf course or two two miles away. There are historic houses to see locally and also, if you are a steam fanatic, the famous preserved Bluebell Railway. If you are a Winnie the Pooh fanatic, his home village of Hartfield on the Ashdown Forest is the next village east . . .

Guests are expected to arrive not earlier than 4.30 pm and to vacate their rooms by 10.30am. Guests are respectfully asked not to smoke in the house. A 50% cancellation fee is charged in the event of failure to show or cancellation within 6 weeks before the booked stay.
If you are visiting England, Gatwick airport is much better than Heathrow. Gatwick provides much more commodious access to both Hammerwood and London and the motorway south from Heathrow into South East England is in the course of constant roadworks and subject to delays. Please therefore try and get tickets to Gatwick and not Heathrow! We are conveniently placed for the Channel Tunnel if you are planning to extend your tour and drive to the continent. There are some maps below which may be useful.
Click here for and amazing place to eat and an interesting place to visit
Click here for other local historic houses to visit whilst you are staying.
Click here for other stunning historic houses to stay in throughout England and Scotland

Click here if you plan to go North West
If you want to look for other places throughout England, both Hotel Heaven as well as the Info-World search here may be useful: