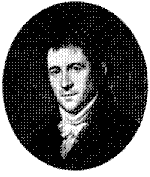 Benjamin Henry Latrobe.
1764 - 1820
Benjamin Henry Latrobe was born in 1764 at Fulneck in Yorkshire. He was the Second son of the Reverend Benjamin Latrobe (1728 - 86), a minister of the Moravian church, and Anna Margaretta (Antes) Latrobe (1728 - 94), a third generation Pennsylvanian of Moravian Parentage. The original Latrobes had been French Huguenots who had settled in Ireland at the end of the 17th Century. Whilst he is most noted for his work on The White House and the Capitol in Washington, he introduced the Greek Revival as the style of American National architecture. He built Baltimore cathedral, not only the first Roman Catholic Cathedral in America but also the first vaulted church and is, perhaps, Latrobes finest monument.

Hammerwood Park achieves importance as his first complete work, the first of only two in this country and one of only five remaining domestic buildings by Latrobe in existence. It was built as a temple to Apollo, dedicated as a hunting lodge to celebrate the arts and incorporating elements related to Demeter, mother Earth, in relation to the contemporary agricultural revolution. Latrobe was a master exponent of symbolism. Hammerwood's composition displays all of Latrobe's latent genius which he took to the States, designing both the house and the park as an essay in perspective as well as the picturesque. In this, Latrobe's work at Hammerwood achieves perfection.
In 1997, the Heritage Lottery Fund enabled the purchase by the Latrobe Heritage Trust of Latrobe's first perspective drawing of "Hammerwood Lodge". We hope to be inserting further details on this page. The drawing is extraordinary in that it relates both to Hammerwood Park and Ashdown House as built, Latrobe's conception of the South portico of teh White House and his 1808 drawing of The Capitol in Washington. Watch this space and bookmark this page!

Come and visit or stay during the summer.

More about Latrobe from the Guide Book is below. Here's
Please come back to us after the White House, however for a tour and to sign our visitors' book at the end.


The White House tell their visitors nothing about Latrobe although his work on the building gives it its distinctive international "face". Latrobe is so underappreciated at The White House that, for instance Nancy Reagan once replied to us saying she was unaware that Latrobe had anything to do with the place!
Latrobe's Doric Revival at Hammerwood Park, Thesis by Michael Trinder MA, Cambridge University -


Benjamin Henry Latrobe (1764 - 1820) - Background.

Anne-Noelle Pinnegar, BA


Benjamin Henry Latrobe was born in 1764 at Fulneck in Yorkshire. He was the
second son of the Reverend Benjamin Latrobe (1728-86), a minister of the
Moravian church, and Anna Margaretta (Antes) Latrobe (1728-94), a third-
generation Pennsylvanian of Moravian parentage. The original Latrobes had
been French Protestants who had settled in Ireland at the end of the 17th
century.
The young Latrobe was educated at the Moravian schools at Fulneck and later
at Nieski in German Silesia. His education was impressive, comprising a broad
curriculum including all the liberal arts, classical and modern languages.
Having rejected the ministry as a possible career, Latrobe finally travelled
back to England in 1783 on a Grand Tour of Germany and France (where he
was much struck by the grand Classicist buildings of Paris). He also travelled
to Rome and Naples, although this may have been on a later trip in 1786.

By 1784 Latrobe had returned to London where he was employed for a time
as a clerk at the Stamp Office. By around 1787, however, Latrobe had begun
his professional training under England's most renowned engineer of the day
- John Smeaton (1724-92), the designer of the Eddystone Lighthouse. Here
Latrobe acquired a thorough grounding in both the technical and theoretical
aspects of advanced English civil engineering, including the meticulous
draughtsmanship in which he excelled throughout his life.
Latrobe's interest in engineering soon led him to develop an interest in
architecture (it was not uncommon during the 18th century for the two
disciplines to be practised in parallel by one individual) and he became
apprenticed to S.R. Cockerell (1754-1827) who was then engaged in
designing public works, such as the house for the First Lord of the Admiralty in
Whitehall. Latrobe gained further invaluable experience and rapid
advancement, actually managing the office in 1791-2. By this association,
Latrobe was immediately drawn into the orbit of England's three most
advanced architects: Cockerell himself, George Dance the Younger (1741-
1825) and Sir John Soane (1753-1837), the latter's work being particularly
influential on Latrobe.

English architecture of the period can be divided into three distinct styles. The
oldest school was the strict Palladianism of Sir William Chambers, inspired by
Palladio himself, as well as other masters of the Italian Renaissance via the
earlier English architects William Kent and Burlington, as Latrobe would have
seen in Chamber's recently completed design of the grand governmental
commission at Somerset House. The second school, that of the Adam
brothers, was just passing its height but was still popular. The style was
definitely Roman in origin, being characterised by its brilliant use of functional
space as well as its decorative detail, which Latrobe found to be over-rich.

Latrobe belonged, rather, to the third school (sometimes called the 'plain
style') the work of which was characterized by simplicity, geometric power and
rationalism. George Dance the Younger was its originator, but it was in the
work of Sir John Soane (whose masterpiece is the Bank of England) that this
movement achieved its great triumphs. This was regarded as the most radical
in tone, both aesthetically and politically, and it appealed especially to those
who were to follow Charles James Fox and show marked sympathy for the
French Revolution. It was definitely a Francophile style and in many ways
paralleled the revolutionary architecture parlante as expounded by Ledoux.

Latrobe and Hammerwood Lodge (now called Hammerwood Park)
Near the end of his service with Cockerell, Latrobe was made surveyor to the
London Police (c. 1792), a minor official appointment involving the supervision
of renovation and repair of a number of district police stations. Around this
time, shortly after his marriage to Lydia Sellon (c.1761-1793), the daughter of
a wealthy Anglican clergyman, Latrobe opened his own office, and was soon
getting enough work, mainly alteration jobs, to enable him to employ at least
one apprentice. Latrobe's reputation grew rapidly and he received
commissions for some new residences, the first of which came through a Mr
John Sperling, of Dynes Hall in Essex, who asked Latrobe to design him a
hunting lodge at Hammerwood, Sussex. Latrobe's only other English house
also survives - Ashdown House at Forest Row - which he designed the
following year, 1793, for a Mr Fuller. Hammerwood Lodge and Ashdown
House are the only two surviving English domestic houses by Latrobe.

Evidence that Latrobe designed Hammerwood for John Sperling in 1792 may
be seen in the ancient Greek inscription situated high up on the reverse of the
Coade Stone capitals of the west portico:

GREEK TEXT: THC. TOY IANNOY CEPINOY EAYEC. PO
TYH PTH. APXITEKTN ATPOBE. EOIE TON AB ENEAYTON.
IHCOY XPICTOY KAI. TON. E Y TEPON THC XMB. OYMPIAAC.

['This is the first portico of John Sperling's mansion (but word used = Cattlefold: see Trinder's Thesis). The architect is B.H.
Latrobe. He made it in the 1792 year of Jesus Christ and the second year of
the 642nd Olympiad'.]

There is no better account of Latrobe's achievement at Hammerwood than
that of his biographer, Talbot Hamlin:
'Hammerwood achieves importance as a monument in Latrobe's career when it
is realized (if we can believe the architect's obituary in Ackermann's
Repository) that it was his first independent work. According to Ackermann:
"While pursuing his studies at home, he was visited by a friend, Mr Sperling,
who, finding him disengaged [apparently he had already resigned from the
Cockerell firm], and admiring his growing talents, commissioned him to
design and build for him a mansion near East Grinstead, to be called
Hammerwood Lodge..."

'[Hammerwood's] exterior reveals a basic desire to tear open the usual
conventions of 18th century country house design, to use new forms and old
forms strangely, to create drama - almost wonder - for the observer. In places
it harks back to the stark power of Vanbrugh; in others it looks forward to the
Greek Revival.'

'It has a great main body five bays wide, with heavy Doric pilasters for the
central pavilion; between these the three central windows under recessed
arches are crowded in with only hairline jambs. The frieze - again a plain band
(except over the pilasters) - is much heavier than ancient precedent would
suggest, as though its designer were after the colossal in scale even in a
country house, and above rises an attic as quietly powerful as the rest. A
slightly projecting band course separates the two lower floors, and the recessed
arches are without architraves or mouldings.'

'The two wings that flank the central block are even more unusual in design.
Here the lower floor consists of arcades of narrow arches, with a window in
each, and is terminated at the end by a primitive Greek Doric temple porch
carrying a pediment. The upper floor has simple rectangular windows, those
over the arcade treated as a single band with recessed piers...'

'Thus Hammerwood Lodge is a strikingly interesting whole, full of
awkwardness but of daring imagination as well; it is complicated in
composition, but every detail has been reduced to the basic simplicity of the
'plain style'. Its virtues, like its faults, are those of youth, enthusiasm, and a
violent search for originality. We may be astonished at the introduction of
Greek Doric end pavilions at this date - that is unusual enough - but we also
find something even rarer: Greek inspiration used with surprising freedom. The
capitals have the broad spread of the primitive Doric of Paestum or Sicily, and
they have fluted neckings; but the entablature above combines frieze and
architrave into one single broad band without triglyphs or metopes. It is Greek,
but not Greek taken from Leroy or Stuart; it is Greek seen through the eyes of,
and interpreted with, the taste one would expect from a Soane.'

'The whole, in other words, is entirely Latrobe's - in its unconventional scale,
its search for drama, its use of ancient inspiration in an original manner, and its
basic drive towards simplification of details. It shows Latrobe already
expressing, albeit in an unformed, youthful way, almost all the ideals that were
his guiding principles in his mature designs.'


Latrobe and the Greek Revival



Latrobe's life-long interest in classical architecture probably began during
early travels on the Continent and his trip to Italy - he visited Rome and
Naples in either 1783 or 1786. These first-hand experiences were to give him
a wide visual repertoire of architectural forms upon which he drew inspiration
throughout his long and illustrious career. Latrobe had mastered classical and
modern languages at school, a fact which would have much enriched his
travels. In addition, throughout his apprenticeship in C.R. Cockerell's office,
Latrobe would have come into contact with the leading architectural theories of
the day, including the enthusiastic transformation of modern design through
imitation of the forms and principles of the antique.

A renewed interest in the art and architecture of antiquity had taken place
throughout the 18th century, partly because it became increasingly
fashionable for aristocrats and gentlemen-scholars to undertake the Grand
Tour - a long and sometimes hazardous journey which included the major
European cities and culminated in Italy or Greece. In addition, the impact of
the re-discovery and excavation of certain important classical sites could not
have escaped a young ambitious architect such as Latrobe. By the time of his
architectural apprenticeship in 1789, there were numerous publications
available containing scaled drawings of newly-discovered sites or ruins.
Thomas Major published his book entitled The Ruins of Paestum in 1768;
James Stuart (1713-88) and Nicholas Revett (1720-1804) were sponsored by
The Society of Dilettanti to undertake a major expedition of some of the major
monuments of Greece and they published volume I of the Antiquities of
Athens in 1762; volume II was published in 1789 and volume III in 1794.
Such works undoubtedly brought a new and more vital appreciation of the
proportions, character and decoration of ancient classical architecture to
England.


Latrobe - After Hammerwood


The only other remaining independent work by Latrobe in England is at
Ashdown House (now a prep school) some two miles to the south of
Hammerwood, near Forest Row. Latrobe worked on this house in 1793, the
year after he designed Hammerwood. It has been described as a feminine
version of Hammerwood's central block, and Talbot Hamlin perceptively
outlines its main architectural features:
'Ashdown, of stone, is almost a square house, three bays wide and deep,
entered through a semicircular porch of four Greek Ionic columns. The front is
broken into three parts vertically, and this division is emphasized by carrying
an attic storey over the ends alone, with only a parapet above the central
element. The centre is stressed by framing the second-floor window with
deliberately projecting plaster strips that carry up to the frieze, but there is no
break in the frieze itself. The tall windows flanking the porch are set in
recessed arches. Throughout, the influence of the 'plain style' makes itself felt.
The cornice is thin and delicate, the frieze an unbroken band; in the attic the
base and cap are formed by mere projecting bands of stone. Within, too, the
detail is of the simplest type, though the parlour doors are of rich mahogany.'

Talbot Hamlin sums up the contrasting characters of Ashdown House and
Hammerwood:
'Ashdown House, the later of the two, is the more polished and more
completely achieved, but Hammerwood Lodge is the more dynamic, full as it
is of violently experimental forms.'


To America



The death of Latrobe's first wife, Lydia, in childbirth in 1793; the detrimental
financial consequences of the pre-Revolutionary instabilities in France and,
around this time, the death of Latrobe's mother who left the young architect
some land in Pennsylvania were, no doubt, all factors which prompted him to
emigrate to the United States in 1795. There's a story too that Latrobe was
involved in the intelligence service, the beginnings of MI5, in connexion with the
French Revolution, that he refused to do a dirty deed for his boss, one Henry
Dundas, who had him framed and that Latrobe jumped onto a boat to come to
America just 10 days before a hearing to commit him to prison for bankruptcy.

Latrobe's prolific American career can be divided chronologically into the
geographical areas in which he worked: Virginia (1796-98); Philadelphia
(1798-1801); Washington (1802-09); and New Orleans (1810-20). Within
these categories, his work may be divided into a) domestic architecture b) civic
architecture and c) engineering works - from which he derived his principal
income.

Latrobe introduced a new professionalism within the American architectural
practice. His approach to building was comprehensive, and he took account
of, and supervised, every functional and aesthetic requirement of the new
buildings he designed, including such details as acoustics and interior design.
Stylistically, his predilection for the Greek Revival appealed to his American
patrons (not least President Jefferson, who appointed him 'Surveyor of Public
Buildings of the United States at Washington in 1806) as it so clearly
symbolized the democracy they were proudly establishing.


Some examples of Latrobe's domestic architecture in America


1796 William Pennock House, Norfolk, Virginia.

1798 Harvie-Gamble House, Richmond, Virginia.

1799 Sedgeley (in the Gothic style), Philadelphia.

1805-8 Waln House, Philadelphia.

1811 Pope House, Lexington, Kentucky.


Some examples of Latrobe's civic architecture in America



1797 Virginia State Penitentiary, Richmond.

1798 Project to build the Bank of Pennsylvania in Philadelphia.

1802 Designs restoration/rebuilding of Nassau Hall at Princeton

1804 Offers to donate his services in designing the Roman Catholic Cathedral at Baltimore.

1805 Draws up proposal for the wings between the President's House and the federal office buildings

1807 New Orleans Customs House

1809 Designs for decoration of the Madisons' public rooms at the President's House, Washington.

1815 Contracts to rebuild the burned U.S. Capitol

1816 With Maximilien Godefroy, wins competition to build the Baltimore Exchange.

1819 Commissioned to design the central tower of St Louis Cathedral, Missouri.

1820 Design for Louisiana State Bank accepted.


Some examples of Latrobe's engineering projects in America


1797 Consultant to Dismal Swamp Land, Virginia.

1799-1801 Philadelphia Waterworks

1801 Appointed engineer and contractor of the Susquehanna River Survey

1803 Begins survey for the Chesapeake and Delaware Canal Company

1804 Draws plans for Washington Canal

1811 Accepts franchise from the New Orleans City Council to
build a waterworks there; contract renewed every two years
until his death.

1814 Becomes contractor for the steam engine at a woollen mill in Steubenville, Ohio.

1820 Dies of Yellow Fever while working on the New Orleans Waterworks.


Click here for extract of Latrobe's biography on Talbot Hamlin on Latrobe, Jefferson and the University of Viginia





Click to return to Hammerwood Resources page and for tour of the house.

An undercount of accesses since April 1996.
Text only viewing isn't counted!