SACKVILLE COLLEGE
East Grinstead
Sussex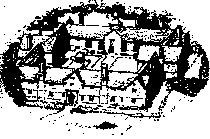 Visit this perfect Jacobean almshouse in East Grinstead
and discover a piece of English Social history.
History
Visitors to Sackville College are immediateloy immersed in 380 years of history.
The College's connection with the Sackville family goes back to the year 1609 and the will of Robert Sackville, Earl of Dorset.
This provided a sum of money with which to buy land and "build a convenient house of brick and stone" to be used as an almshouse. For many years the College had a second use too: providing overnight accommodation for the Sackville family as they journeyed to and from their estates in Sussex.
Today the College Warden lives in part of the wing that once served the Sackville family.
But the College' s primary use has never altered: it still provides accommodation, now modernised and comfortable, for elderly people. They enjoy the seclusion of their own flats and the comfort of communal rooms behind the walls of the perfectly preserved quadrangle. The College is a charitable foundation which operates according to an Act of Parliament of 1624, and a Royal Charter of 1631.
The College
Your tour begins in the Common Room, where you will hear about the history and function of will then be taken through the quadrangle. If you look up to the bell above the Great Hall, you will see a leopard bearing a flag; this is the heraldic beast of the Sackville family. You will be shown: - the Earl of Dorset's lodgings and this splendid dining hall retains its gallery and it s original hammer- beam roof. Chapel: still used for special services each year and it has 18 seats for the Warden and residents. It also houses the "hutch" for fines levied on those who engaged in " secret swearing and the like". Warden's Study: a previous Warden, the Reverend John Mason Neale, composed hymns here which became among the best known in Britain, among them 'Good King Wenceslas'. Having hardly changed since Neale's time, it remains an excellent example of a Victorian study.
Location
Sackville College stands in an ancient part of East Grinstead in Sussex. It is very near Standen, a National Trust Property, and also Ashdown Forest, so on a fine day you could combine a visit to us with a visit to one of them.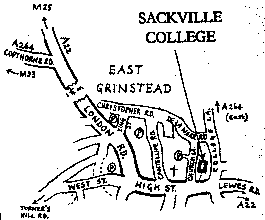 Click here for another local place to visit in the afternoon and possibly a place for dinner afterwards! and here a place to stay

Click here for gardens to visit in south east England

Click here for historic houses and stately homes to visit nearby

.




---
This page was sponsored by Hammerwood Park. You could combine a visit or stay there.
---

Visitors since May 1996